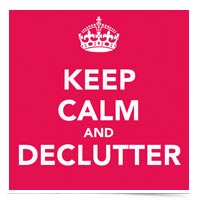 Will we ever get tired of helping you help clients de-clutter? No. Why? Because it's one of the biggest challenges for homeowners preparing to sell and buyers who are downsizing.
In this article from BuzzFeed we found some truly excellent tips, especially:
Enlist the "Rule of Five": Whenever you're cleaning a room, get rid of at least five items, whether it's a piece of trash, an old magazine, or just something you haven't used in ages.
Cut down your closet by 25% by asking yourself this one question: "If I were shopping right this second, would I buy this?" If the answer is no, out it goes.
When buying electronics, download the manual and store it in the cloud. (There's a tutorial for doing this on ApartmentTherapy.com here.)
There are 31 more juicy tips here, and we can honestly say there's not a bad one in the bunch. (There's even a handy tip for de-cluttering your Facebook feed.)
https://www.buzzfeed.com/peggy/how-to-de-clutter-your-entire-life