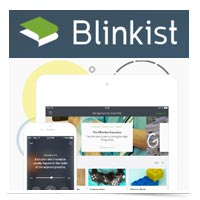 There are literally thousands of nonfiction books published each year, and even if you wanted to read them all you simply do not have the time to digest the information. What's more, the marketing for many nonfiction books published today makes them come across as powerfully enlightening if not essential, and choosing which deserve your full attention versus a pass is time consuming by itself.
Blinkist is a service which transforms more than a thousand best-selling nonfiction books "into powerful packs you can read in just 15 minutes." From a 2-minute overview of the main idea to a more detailed breakdown you can absorb with your lunch, Blinkist wants to help optimize how you learn on the go.
Blinkist is also designed to be everywhere you need it, so the company offers apps for iOS, Android, and the web, and includes a "Send-to-Kindle" feature, too.
As Clay Shirky, noted thinker about how the Internet influences our lives says, "What we are dealing with now isn't information overload … the problem is filter failure." The best use of Blinkist may be as one of these filters to help you decide which books are worth a deeper dive.
A 30-day trial of Blinkist is free, and annual plans start at less than $5/month. Try it free today: