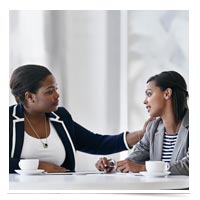 A lot of real estate advice centers on recruiting new clients, seeking referrals, promoting your image, and managing your personal brand. But the best booster for your business is building a reputation as someone who can not only serve your clients' needs, but provide them the empathetic, helpful honesty which encourages them to share your name with friends and family.
While you may know My Real Helper as a resource for marketing materials, there is also an entire section of materials dedicated to sensitive conversations. While most of these are letters, they can also serve as a template for helping you through conversations with clients which might be better conducted face-to-face.
These include topics such as dealing with a seller's doubt, making first home compromises, how lowball offers can hurt, discussing a price reduction, defending your real estate commission, and a whole lot more.
Creating an enduring career in real estate is about more than personal marketing. Invest in your ability to handle sensitive conversations with grace.