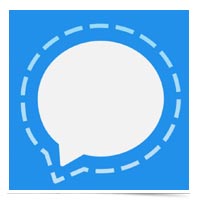 Concerned about privacy? Feel that we're heading towards a future where your personal conversations may be subject to increased surveillance? Take the steps today to use a free app for encrypting your messaging and phone conversations.
Signal by Open Whisper Systems is "privacy that fits in your pocket" and provides iOS and Android users with a completely free way to easily encrypt communications.
Features include:
Send high-quality group, text, picture, and video messages, all without SMS and MMS fees.
Use your existing phone number and address book. There are no separate logins, usernames, passwords, or PINs to manage or lose.
(Open Whisper Systems) cannot read your messages, and no one else can either. Everything is always end-to-end encrypted and painstakingly engineered in order to keep your communication safe.
Make crystal-clear phone calls to people who live across town, or across the ocean, with no long-distance charges.
Learn more and download Signal by Open Whisper Systems here: