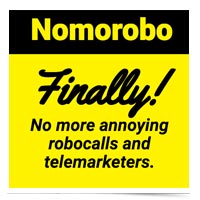 This election year, we've all received more than our fair share of robocalls. As we head into the last week, give yourself a break by using a free service designed to shut down robotic callers.
In early 2013 the FTC held a contest to combat the scourge of robocalls. The winner of that contest was Nomorobo, a free service which can check incoming calls to your phone lines against a blacklist of known robocall sources. If Nomorobo detects a robocall, it screens the call much like the way internet forms use CAPTCHA graphics to make sure you're human. If the caller is a bot, the call never makes it to your phone. Bingo! Peace and focus are preserved.
The service is free, but your phone provider must be able to provide a feature known as "Simultaneous Calling." Since we originally featured this service, it has rapidly expanded and now services most major providers, including cable company phone services like Comcast.
The Nomorobo website provides a form which quickly allows you to determine if your carrier already provides this service. If not, you can request it be added.
We've tested it ourselves and it's astonishing how effective the service is at shutting down spammy robocalls.
You can learn more about Nomorobo here:
http://www.nomorobo.com/