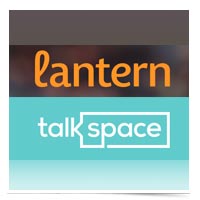 According to the National Alliance on Mental Illness, "approximately 1 in 5 adults in the U.S.–43.8 million, or 18.5%–experiences mental illness in a given year" and "approximately 1 in 25 adults in the U.S.–10 million, or 4.2%–experiences a serious mental illness in a given year that substantially interferes with or limits one or more major life activities." Not only is the impact of mental illness personal, but it's economic as well: "Serious mental illness costs America $193.2 billion in lost earnings per year."
While you may not be suffering from major mental illness, there may be times when you find yourself depressed, stressed, or dealing with an issue where help from a therapist might make a real difference in your life.
Now online tech is opening up new opportunities in the arena of mental health. Two tools you might want to keep handy are Lantern and Talkspace.
Lantern (https://golantern.com/) bills itself as an opportunity to "become your strongest self." The site provides "online programs that provide effective, affordable support for emotional well-being." The service "gives you daily exercises and matches you with a professional coach to support you on your path forward." Programs on the site have been designed by researchers at Stanford University, Washington University in St. Louis, and Penn State.
Talkspace (https://www.talkspace.com/) aims to provide therapy at the touch of a button. According to the site, "your professional licensed therapist is waiting to chat with you right now, and help you make a real difference in your life. You can message your therapist anytime and anywhere, from your smartphone or the web, 100% safe and secure. Welcome to the wonderful world of therapy, re-invented for how we live today."
Looking for a boost? Need someone to listen? Lantern or Talkspace may be just what you need.