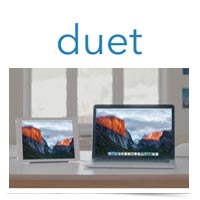 Ever wished you could expand your laptop's real estate by using your iPad as a second monitor? Now there's a high-performance app for that.
Duet Display is an app created by ex-Apple software engineers which allows you to have 60fps retina-display quality on your iPad (or iPhone) via a lightning or 30-pin cable (the same one you use to charge your iPad). The real appeal here is the zero-lag, commonly associated with wireless display mirroring.
Reviews of the app are good which is promising, given the app costs a relatively hefty $18.99. We've used the app and performance is as advertised. The app also works with the new iPad Pro.
See more and do more on-the-go with Duet Display:
http://www.duetdisplay.com/