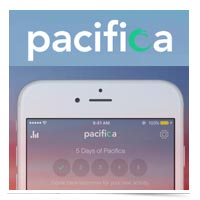 Instead of whipping out that phone to flick through your Facebook feed for the 100th time today, why not use the supercomputer in your pocket to help you manage your stress and anxiety?
Now available for Android and iOS platforms, Pacifica offers you an intuitive, engaging way to do just that. According to the website:
"Pacifica offers daily tools for stress, anxiety & depression based on Cognitive Behavioral Therapy, relaxation and wellness alongside a supportive community. You can track your mood, set daily goals, complete mindfulness meditations and relaxation activities as well as connect through peer support groups."
The app helps you track your mood, health, and daily goals, and also provides relaxation techniques to calm your mind. It also provides a way to keep a private "mood diary" so you can learn to identify and correct distorted thinking patterns.
While the app is admittedly not a suitable replacement for professional treatment of acute stress, depression, or anxiety, it is a great way to turn your phone or tablet into a platform for learning to "manage your feelings at your own pace."
Learn more and download the app free here:
https://www.thinkpacifica.com/