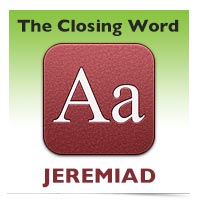 This week we continue our vocabulary-building series, "The Closing Word." Each week we provide a new word to help build your vocabulary and show you an example of how to use it.
This week's closing word:
Pronounced: (JARE-uh-MY-add)
Noun:
a long and mournful complaint
From Vocabulary.com: "Use the noun jeremiad to talk about any list of woes, especially a lengthy, mournful one. The word jeremiad was coined in 1700s France, as jérémiade, and it was a reference to the Old Testament's "Lamentations of Jeremiah.""
Example:
"Please spare me the jeremiad about the way these 'blind buyers' fail to see the value of your house. The truth is it's overpriced."